SMART High Reliability Solutions Announces 8 Terabyte Highly Ruggedized MLC Solid State Drive (SSD)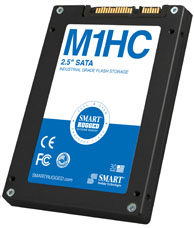 SMART HRS brings a feature-rich, cost effective multi-level cell (MLC) Flash technology solution to applications requiring high-density storage for use in hazardous and/or critical environments.
Newark, CA, April 25, 2017 - SMART High Reliability Solutions LLC ("SMART HRS"), a provider of current and next-generation solid-state storage solutions specializing in ruggedized, high-performance and high-capacity solid-state drives ("SSDs") for defense, aerospace and industrial markets, today announced its new 8TB HRS-M1HC 2.5" SATA 6Gb/s SSD. The HRS-M1HC is the latest in a growing product portfolio of highly ruggedized, reliable and secure SSDs from SMART HRS. The M1HC is designed for land, air and sea applications where collecting and storing large amounts of mission critical information is essential.
SMART's new HRS-M1HC builds on its predecessor the HRS-M1, leveraging all of the ruggedness and performance features of the M-Series product line, and is available in capacities of 1, 2, 4 and 8 Terabytes. The 8TB drive comes in a high-strength industrial design 9.5 mm enclosure while the 1, 2 and 4TB drives are housed in the same but a more compact 7.0 mm enclosure that addresses the size, weight and density requirements of more standardized applications. It's fast sequential read speed of 520GB/s and write speed of 500MB/s makes it a perfect candidate for many demanding defense, industrial automation, transportation, medical and telecommunication applications.
The HRS-M1HC also operates at altitudes of up to 100,000 ft. and is rich with additional features such as error correction, encryption capabilities, protection against data corruption and Self-Monitoring Analysis and Reporting Technology (S.M.A.R.T.) attributes. Using cost effective MLC NAND Flash, the HRS-M1HC has an MTBF rating of 1.5M hours.
Other key features include industrial temp operation of -40 to 85 degrees Celsius, highly ruggedized enclosure designed to protect against harsh elements while withstanding shock and vibration up to 1000g. Along with Opal 2.0 compliance, the customer also has the option to write protect or trigger erase sequences depending on the application. Additionally, there are several different data elimination and data protection protocols available in the HRS-M1HC.
"The HRS-M1HC extends our M-Series product line giving our customers in the military and industrial markets a cost effective, high-density option for specialized applications." said Michael Guzzo, General Manager of SMART HRS. "The M1HC is one of the most comprehensive, security-laden SSDs available from SMART HRS. The fact that we provide it in an MLC based drive gives customers additional flexibility when choosing a solution that best fits their need."
Review and compare SMART HRS's entire product line, feature sets, capabilities and more by viewing the company's Product Comparison Chart.
For additional information on the new HRS-M1HC SSD and more from SMART High Reliability Solutions, please visit www.smartH.com.
Find us on Twitter under the handle @milssd or connect with us on LinkedIn at http://www.linkedin.com/company/smart-high-reliability-solutions.
About SMART High Reliability Solutions
SMART High Reliability Solutions (SHRS) is a market pioneer of secure, ruggedized solid-state drives (SSDs) and continues to be a technology leader, employing current and next-generation defense-focused designs. Utilizing Flash technology backed with proven world-class support, SHRS designs and manufactures high performance military and industrial SSDs with additional attributes such as encryption, secure data elimination and write-protect features. SHRS understands and solves customers' key requirements, leveraging its long heritage of established, generational and robust SSD design. SMART High Reliability Solutions is a subsidiary of SMART Global Holdings, Inc. See www.smartH.com for more information.
# # #
Contact:
Jim Piroli
SMART High Reliability Solutions
(510) 624-5354
jim.piroli@smartH.com