SMART High Reliability Solutions Introduces Persistent Memory Capabilities to its M-Series Highly Ruggedized MLC SSD Product Line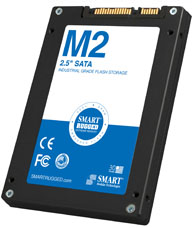 Data loss protection is now available with the HRS-M2 industrial grade storage solution which safeguards in-flight data during sudden power loss (SPL) events.
Newark, CA, March 21, 2017 - SMART High Reliability Solutions LLC ("SMART HRS"), a provider of current and next-generation solid-state storage solutions specializing in ruggedized, high-performance and high-capacity solid-state drives ("SSDs") for defense, aerospace and industrial markets, today announced its HRS-M2 2.5" SATA 6Gb/s SSD with pFail (power failure) data protection capability. The HRS-M2 leverages all of the ruggedness and performance features of its sister product, the HRS-M1, making it the ideal storage solution for many demanding defense, industrial automation, transportation, medical and telecommunication applications. The M2 has been successfully sampled with key customers and is now available in volume quantities to qualified customers.
SMART's new HRS-M2 SSD combines unique power loss detection and hold-up circuitries with an advanced controller firmware algorithm to flush in-flight data from volatile cache to NAND Flash memory in order to safeguard data against corruption and/or loss during an SPL event. Mission critical applications can benefit from SMART's pFail technology to ensure an SPL event does not cause system failure or loss of user data.
The HRS-M2 is loaded with additional features such as long data retention, error correction, encryption capabilities, protection against data corruption and Self-Monitoring Analysis and Reporting Technology (S.M.A.R.T.) attributes.
Building on the accomplishments of SMART HRS's long line of COTS products and SSDs for the defense industry, the HRS-M2 SSD delivers performance metrics of 525MB/s sequential read and 500MB/s sequential write speeds while delivering 70K IOPS and 50K IOPS, respectively, during random operation. Using cost effective multi-level cell (MLC) NAND Flash and a MTBF of 2M hours, the HRS-M2 is available in capacities up to 1.92TB.
Packaged in a high strength, industrial designed enclosure to protect it from harsh elements, the M2 is designed and tested per MIL-STD-810 to operate in high shock and vibration applications at industrial operating temperatures of -40°C to +85°C. It is also certified for operation at altitudes up to 80,000 ft.
"The HRS-M2 is another brick in the foundation of our focus on providing highly ruggedized, reliable and secure solid-state storage solutions; one which we are proud to include in our product offering." said Michael Guzzo, General Manager of SMART HRS.
Review and compare SMART HRS's entire product line, feature sets, capabilities and more by viewing the company's Product Comparison Chart.
For additional information on the new HRS-M2 SSD and more from SMART High Reliability Solutions, please visit www.smartH.com.
Find us on Twitter under the handle @milssd or connect with us on LinkedIn at http://www.linkedin.com/company/smart-high-reliability-solutions.
About SMART High Reliability Solutions
SMART High Reliability Solutions (SHRS) is a market pioneer of secure, ruggedized solid-state drives (SSDs) and continues to be a technology leader, employing current and next-generation defense-focused designs. Utilizing Flash technology backed with proven world-class support, SHRS designs and manufactures high performance military and industrial SSDs with additional attributes such as encryption, secure data elimination and write-protect features. SHRS understands and solves customers' key requirements, leveraging its long heritage of established, generational and robust SSD design. SMART High Reliability Solutions is a subsidiary of SMART Global Holdings, Inc.
See www.smartH.com for more information.
# # #
Contact:
Jim Piroli
SMART High Reliability Solutions
(510) 624-5354
jim.piroli@smartH.com