SMART High Reliability Solutions Announces its New HRS-M1 Highly Ruggedized MLC SSD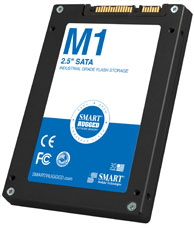 The HRS-M1 is THE industrial grade storage solution for "non-compromise" defense and aerospace applications.
Gilbert, AZ, November 1, 2016 - SMART High Reliability Solutions ("SMART HRS"), a provider of current and next-generation solid-state storage solutions specializing in ruggedized, high-performance and high-capacity solid-state drives ("SSDs") for defense, aerospace and industrial markets, today announced its HRS-M1 2.5" SATA 6Gb/s SSD. The M1 has been successfully sampled with key customers and is now available in volume quantities to qualified customers.
Emphasizing the company's exclusive focus on highly ruggedized, reliable and secure solid-state storage solutions, the HRS-M1 is packaged in a high strength, industrial designed enclosure to protect it from harsh elements. The M1 is designed and tested per MIL-STD-810 to operate in high shock and vibration applications at industrial operating temperatures of -40°C to +85°C. The HRS-M1 is also certified for operation at altitudes up to 80,000 ft.
"Our engineering teams have worked closely with our customers to identify their application requirements. We've then pushed the limits of design with solutions that exceed expectations. Whether it is performance, security or environmental based requirements, our products must always function at the highest level." said Michael Guzzo, General Manager of SMART HRS.
On top of a greater than 10 year data retention at 25 degrees Celsius, SMART HRS has incorporated a host of reliability features into the HRS-M1 starting with error correction capability that allows HRS-M1 to correct up to 28 bits for every 1024 bytes, and end-to-end cyclic redundancy check (CRC) protection guards against data corruption along the entire data path, delivering an uncorrectable bit error rate (UBER) of 1x10-17.
The new HRS-M1 SSD utilizes AES 256-bit encryption, which is designed to protect the data written to the drive. If the customer needs to do a quick erase it can be accomplished with the standard ATA-8 security erase function. The drive also features the Self-Monitoring Analysis and Reporting Technology (S.M.A.R.T.) attributes which assists in monitoring the health of the drive.
Building on the accomplishments of SMART HRS's long line of SSD products for the defense industry, the HRS-M1 SSD delivers performance metrics of 525MB/s sequential read and 500MB/s sequential write speeds while delivering 70K IOPS and 50K IOPS, respectively, during random operation. Using cost effective multi-level cell (MLC) NAND Flash and a MTBF of 2M hours, the HRS-M1 is available in capacities up to 1.92TB.
SMART HRS will showcase the HRS-M1 solid-state storage solution along with the rest of its industrial and defense SSD product portfolio during the International Telemetering Conference and Exhibition at the Renaissance Hotel & Spa in Glendale, AZ, from November 7 through 10, 2016. Visit SMART HRS at booth #414.
SMART High Reliability Solutions' Director of Engineering, Chris Budd, will be speaking at the conference, "How to Make a Ruggedized SSD," on Wednesday, November 9 at 9:20 AM.
For additional information on the new HRS-M1 SSD and other solid-state storage products from SMART High Reliability Solutions, visit www.smartH.com.
About SMART High Reliability Solutions
SMART High Reliability Solutions is a provider of current and next-generation ruggedized, high-performance and high-capacity solid-state storage solutions. Leveraging its deep expertise in Flash and in defense storage technology, SMART HRS combines leading-edge, defense focused design with proven world-class support, to deliver high quality and high reliability solutions to a focused customer base, primarily ruggedized and defense OEMs. SMART High Reliability Solutions is part of the SMART Global Holdings family of global companies. See www.smartH.com for more information.
# # #
Contact:
Jim Piroli
SMART High Reliability Solutions
(510) 624-5354
jim.piroli@smartH.com