SMART High Reliability Solutions Announces Availability of its New Highly-Ruggedized, Highly-Secure HRS-M4 Solid State Drive with Opal 2.0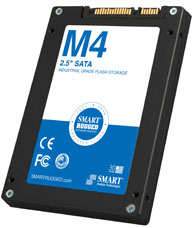 Designed to meet applications where temperature tolerances and resilience to extreme environments are as important as high-performance and reliability, the M4 is a security-rich, 1TB, multi-level cell (MLC) technology solution.
Gilbert, AZ, September 26, 2017 - SMART High Reliability Solutions LLC ("SMART HRS"), a subsidiary of SMART Global Holdings, Inc., (NASDAQ: SGH), and a provider of current and next-generation solid state storage solutions specializing in ruggedized, high-performance and high-capacity solid state drives ("SSDs") for defense, aerospace and industrial markets, today announced availability of its new HRS-M4, a 1TB, 2.5" SATA SSD with Opal 2.0. The M4 is one of SMART HRS's most feature rich SSDs yet, boasting resistance to extreme temperatures, ruggedization, gold plating and a multitude of security options.
The new MLC based HRS-M4 is available in capacities of 240GB, 480GB, and one terabyte, and has read/write performance of 500MB/s and 260MB/s respectively. The M4 is designed for land and sea applications with key features including an industrial temperature operation of -40 to +85 degrees Celsius, a highly-ruggedized enclosure designed to protect against harsh elements while withstanding vibration and shock up to 1500g. Design options include Opal 2.0, staking, conformal coating, leaded process, extended burn-in and specialty firmware if the applications demands.
In addition to Opal 2.0, security features include AES 256b, write protection, and an external HW erase trigger. The M4 also features Mil erase sequencing that adheres to NSA-9-12, DoD NISPOM, and other specific NSA and armed forces security and encryption criteria.
"While SMART HRS designs SSDs with a focus on a variety of applications, some very specific," said Michael Guzzo, General Manager of SMART HRS, "we believe customers will get an enormous amount of flexibility out of the new M4 as it is one of the most comprehensive, MLC SSDs we've ever introduced."
Review and compare the new HRS-M4 product specifications, feature sets, capabilities and more vs SMART HRS's entire product line by viewing the Product Comparison Chart which lists all of SHRS's product specifications and attributes.
SMART HRS will showcase the HRS-M4 solid state storage solution along with the rest of its industrial and defense SSD product portfolio during the International Telemetering Conference and Exhibition at Bally's Hotel & Convention Center in Las Vegas, NV, from October 23 through 26, 2017. Visit SMART HRS at booth #609.
SMART High Reliability Solutions' Director of Engineering, Chris Budd, will be speaking at the conference, "Using MLC Flash to Reduce System Cost in Industrial Applications," on Wednesday, October 25 at 11:00 AM in the Bronze 3 ballroom.
For additional information on the new HRS-M4 and more from SMART High Reliability Solutions, please visit www.smartH.com.
Find us on Twitter under the handle @milssd or connect with us on LinkedIn at http://www.linkedin.com/company/smart-high-reliability-solutions.
About SMART High Reliability Solutions
SMART High Reliability Solutions (SHRS) is a market pioneer of secure, ruggedized solid state drives (SSDs) and continues to be a technology leader, employing current and next-generation defense-focused designs. Utilizing Flash technology backed with proven world-class support, SHRS designs and manufactures high-performance military and industrial SSDs with additional attributes such as encryption, secure data elimination and write-protect features. SHRS understands and solves customers' key requirements, leveraging its long heritage of established, generational and robust SSD design. SMART High Reliability Solutions is a subsidiary of SMART Global Holdings, Inc. See www.smartH.com for more information.
# # #
Contact:
Jim Piroli
SMART High Reliability Solutions
(510) 624-5354
jim.piroli@smartH.com